By Temidayo Ajibola
The 2022 edition of the JIFORM Intercontinental Migration Summit in partnership with the Medgar Evers College (MEC) of the City University New York have named H.E. President Dr. Julius Maada Bio of Sierra Leone and H.E. President Dr. Lazarus Chakwera of Malawi as African Presidential Decent Work Champions for 2022/2023 on the sidelines of the United Nations General Assembly in New York, NY, USA.
The President of the JIFORM, Dr Ajibola Abayomi, confirmed this in a statement saying the presentation of letter of intent on the awards would be presented to the awardees by member of the African Union Labour Migration Advisory Committee, H.E. Rev. Dr. Princess Ocansey , while the full honour would take place between November 2-4, 2022 at the MEC, Brooklyn during the summit.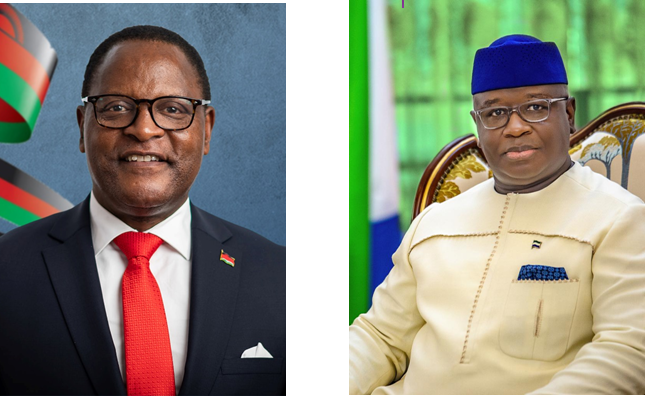 According to Dr Ajibola, the summit themed Appraising Human Mobility And Security: Prospects And the New Challenges Of Labour Migration Post Pandemic Era and would with participation of the former Minister of Citizenship and Immigration, Hon Gerry Weiner, Dr Jo-Ann Rolle, the Dean of School of Business, MEC, Professor Byron Price of MEC-CUNY, Professor Patrick Lumumba from Kenya, Mr Gois Williams, the Regional Director, Migration Forum Asia and others.
President Dr. Julius Maada Bio has distinguished himself globally as a Human Capital Development Champion– focusing on developing the "real diamonds" of the mineral rich Sierra Leone. Working closely with his seasoned Minister for Labour and Social Security, Hon. Dr Alpha Timbo and the SOS Migration team, Dr. Bio's track record in decent work on the continent is unmatched.
Earlier in the year, April 7-8, 2022, H.E. President Dr. Lazarus Chakwera had hosted the first UN Generation Equality Conference in Lilongwe, Malawi- during which he pledged decent work for his people, having been recognized as a Gender Equality and Decent Work giant – ensuring Malawian women especially, are not left out of the global digital revolution. He is delivering on both promises partly through the SOS Migration Programs.
In the conference audience was Dr Ocansey, a multiple award-winning legal migration expert, CEO of SOS, author of the Amazon bestselling book: 'Deadly Work or Decent Work?' who was invited to Malawi by the former President of Malawi, H.E. Dr. Joyce Banda – UN Generation Equality Campaign Malawi Chapter Lead and Malawi's renowned first and only female President to institute the award-winning SOS Decent Work program in Malawi.
It would be recalled that the SOS instituted had instituted systems, resulting in 1000 decent jobs for the Malawian youths and the USA STEM Masters Degree Program.