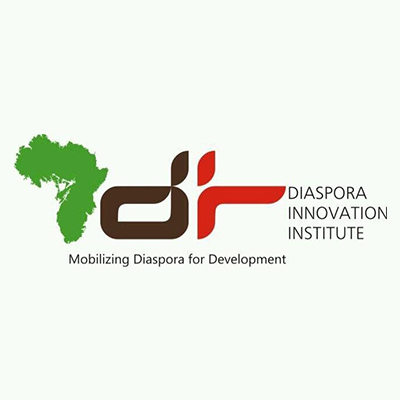 The Diaspora Innovation Institute was established in 2012 after the maiden edition of the African Diaspora Conferences in Lagos Nigeria at the Prestigious Lagos Business School, Nigeria.
The goal of the Institute is to build a structure for Diaspora return, Transition, Relocation, Engagement, Investment, Entrepreneurship and impact on Development.
Focus is on Diaspora Research, Diaspora Marketing, Transition, Technology, Conferences and Development.
Research is on Entrepreneurship, Environmental Sustainability, Technical knowledge transfer, Local Innovation and Technological application.
We have created partnerships with City University of New York, Adekunle Ajasin University,  Green Campus Institute, Junior Chamber Nigeria, CBCEMEA, African Diaspora Marketplace-USAID, Western Union, Young Global Leaders, Center for Management Development CMD, Rainbow Town Development, Chams Plc, Arik Air, Come to Nigeria, Nigeria in Diaspora Organizations, The Africa Report, Bowie State University Business Innovation Center, Deluxe Residences, DOWEN College, Federal University of Technology Otuoke, Easy Taxi, National University Commission NUC, Homecoming Revolution South Africa, Trend City, GE Nigeria, Lagos State Inland Revenue Service, Montgomery College USA, DHL Nigeria, Oracle, Global Property Partners GPP, Chams Mobile etc.
Advisory Board members:
Prof Byron Price,  Baruch College  City University of New York CUNY
Pastor Robert Aderibole, Financial Consultant, Dublin Ireland
Prince Akinwale Ojomo, Young Global Leader, World Economic Forum, Nigeria/USA
Dr Ijeoma Otigbuo Professor, Montgomery College USA
Kingsley Aikins, Diaspora Consultant, Dublin Ireland
Ndidi Nwuneli Director, Sahel Capital, Young Global Leader, Nigeria
Technical Adviser:
Hon. Abike Dabiri-Erewa, Senior Special Assistant to the President on Foreign Affair and Diaspora, Former Honorable member of Nigerian National Assembly, Abuja, Nigeria
Dr Ola Orekunrin, CEO Flying Doctor UK                   
Dr Kabir Kabo Usman, Director General, Centre for Management Development
Peter Taiwo Environmental Consultant, Nigeria
Partnership with Universities in NIGERIA –Adekunle Ajasin University AAUA, Nnamdi Azikwe University and University of Maiduguri
Adekunle Ajasin University-Agreement to support the Centre for Bio-computing and Drug Development CBDD, Centre for Entrepreneurship Development CED and host the Africa Diaspora Conference ADC
NnamdiAzikwe University Akwa Agreement to participate in the Diaspora 100 and African Diaspora Fellows
University of Maiduguri. Agreement on Diaspora 100 with focus on Security, Education and Job Creation
Other University in communication with include-Redeemer's University, Bell University, Elizade University, Adeyemi College of Education etc
Programs:
African Diaspora Conference every December
DIASPORA 100-supporting relocation of 100 diaspora members every year
Environmental Sustainability and Conservation Program
SME Lab/Business Incubator at Centre fo r Management Development CMD
CMD Diaspora Accreditation Program
Diaspora Monthly Meeting
Diaspora Campus Entrepreneurship Centre
Diaspora Membership and Discount Card
Services:
Diaspora Marketing
Diaspora Annual Conferences and Workshops
Global Conferences facilitation
Research and Social Survey
Human Capital Training
HR/Diaspora Recruitment
Project Funding Facilitation
Diaspora Transition-Housing, relocation services
Diaspora Program Implementation
Diaspora Virtual Office
Achievements
Held the maiden edition of the African Diaspora Conference 2012
Held the 2013 African Diaspora Conference with focus on Environment Sustainability
Opened the first Campus Office at the Adekunle Ajasin University 2014
Created partnership with Centre for Management Development to launch the CMD Diaspora Accreditation 2015
SME Diaspora Virtual Office was launched in 2015
Diaspora Discount Card 2016
Diaspora Hub @ Magodo 2016
Diaspora Hub @ Lekki 2016
Contact and Global Offices:
Prince Akinwale Ojomo, MBA
Chief Engagement Officer/Board member
Young Global Leader (World Economic Forum)
USA Office:
C/o Prof Byron Price Ph.D
Lillie and Nathan Ackerman Chair of Social Justice   
Baruch College School of Public Affairs
One Bernard Baruch Way                                          
City University of New York, CUNY  New York, USA 
Nigeria Office:                                                                                                                                                              Lagos Island:  ,128A Plot 9A New Creation Street, Lekki Phase 1 Lagos State, NIGERIA
Lagos Mainland: Suite/Office 4 Digital Center, Center for Management Development CMD
CMD Complex, CMD Road, Shangisha-Magodo, Lagos State, NIGERIA
Campus Office: Suite 2 CRD Building Adekunle Ajasin University, Akungba Akoko, Ondo State NIGERIA
Email: diasporainnovationinstitute@gmail.com
akinsoroy@gmail.com 
Diaspora.institutes@aaua.edu.ng
Phone: 234-808-515-1778; 234-0803-456-5038
Like us on Facebook
https://www.facebook.com/africandiasporaconference
Twitter: @diasporareturns